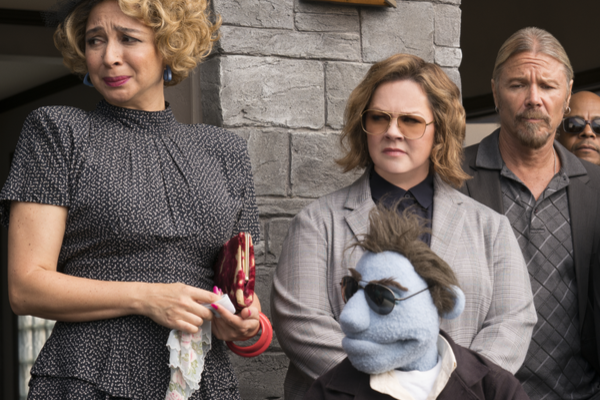 The Happytime Murders is definitely no sesame, all street and hilarious! Melissa McCarthy, Maya Rudolph, Joel McHale, and Elizabeth Banks, along with the Miskreant puppets from Henson Alternative are the perfect cocktail of straight up NSFK (Not Safe For Kids), R-rated comedy of the end summer. On theaters from August 24, 2018.
An innovative film that incorporates influences from multiple genres to create a hilarious hybrid of film noir, crime drama, and cop buddy picture — with a healthy dose of RRated profanity and humor — The Happytime Murders focuses on a pair of estranged police detectives who must set aside their mutual animosity toward each other and work together again to solve a series of puppet murders in Los Angeles.
Set in the seedy underbelly of Los Angeles where puppets and humans coexist. Two clashing detectives with a shared secret, one human (Melissa McCarthy) and one puppet, are forced to work together again to solve the brutal murders of the former cast of a beloved classic puppet television show.
Although puppets are living among humans, they are still viewed as second-class citizens during discrimination, bigotry, and violence as they attempt to find their place in the world, living with as much dignity as possible even though they're stuffed with fluff.
The film focuses on the fractured relationship between Melissa McCarthy as LAPD Detective Connie Edwards, a volatile veteran of the force with issues and a wicked sugar addiction, and BILL BARRETTA as Phil Phillips, her disgraced former puppet partner. They were once a star team and the pride of the department until an incident led to Phillips' dismissal. Having left the LAPD, Phillips is now a private investigator, "fighting for the felt" in the City of Angels. When several cast members of The Happytime Gang — a beloved children's program from the 90's — are murdered, Edwards and Phillips must begrudgingly reunite to track down the serial killer. Hilarity ensues as they fall into their old routine of constant bickering and trading insults while they infiltrate the fuzzy underbelly of Los Angeles.
The Happytime Murders is directed by BRIAN HENSON (Muppets Tonight, Muppet Treasure Island), son of the legendary Jim Henson, with a screenplay by TODD BERGER (Cover Versions) from a story by Berger and DEE AUSTIN ROBERTSON. Joining Henson's creative team are director of photography MITCHELL AMUNDSEN (CHIPS, A Bad Moms Christmas), production designer CHRIS SPELLMAN (The Disaster Artist, Amazon's Red Oaks), editor BRIAN OLDS (Life of the Party, Central Intelligence), costume designer ARJUN BHASIN (Blue Night, HBO's Divorce), with music by CHRISTOPHER LENNERTZ (Pitch Perfect 3, television's Supernatural). Is an STX Films and Huyai Brothers Pictures presentation in association with Black Bear Pictures.