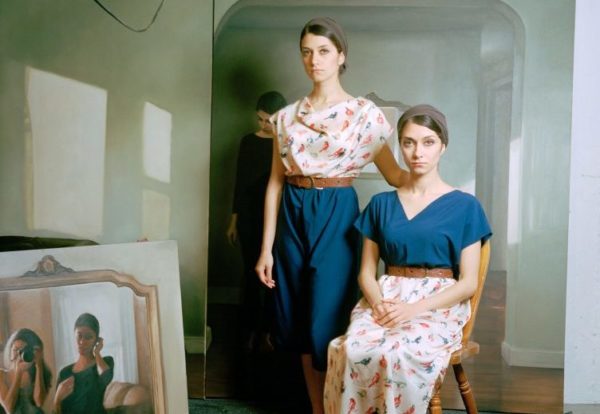 Does art imitate life or the other way around? Iranian-born artists Bahareh and Farzaneh Safarani's, their work is part of the twin sisters' personal journey to explore and discover new things in their own lives.
Born in Tehran in 1990, the sisters have been painting together since the age of 13, and now live and work in Boston, Massachusetts. After studying painting at the University of Tehran, they moved to the United States to study Studio Art at Northeastern University, where their intensely collaborative work came to full fruition. They have exhibited in many countries, including the U.S. and Iran, and their work has been acquired by both museums and private collectors across the globe.
Farzaneh Safarani explains that they get inspired by the most simple to the most complex experiences in their lives, and the ideas for their works are driven from those experiences. "We (she continues) have been living together so closely for so many years and sharing so many experiences, that we have come to many of the same ideas for our paintings. We used to work separately and in fact, never consciously decided to work together—our collaboration happened organically when we realized how our minds work together, and how we complete each other's thoughts and ideas. And we saw that it worked: our first series of collaborative paintings was very successful. Gradually, our work became increasingly knitted together and now it is like one person working with her other self. When one of us is behind the camera and the other one is performing or posing, we do not need to communicate a word, we both exactly know and feel what we both want."
Twin sister Bahareh Safarani continues giving details, that whatever they know in terms of skills they learned in Iran, and they are also self-taught. "We learned that art is all about approach and communication and as an artist, it really does not matter what you do — what matters is how you present your subject and concept. Galleries, collectors, art dealers and society play an essential role in the career and success of an artist; it is [critical] to have their support in order to flourish — and they have a very delicate job, because they are shaping societal tastes and if they do this poorly, they can do lasting harm."
They combine videos and still images. Video adds time to the still image — but when one watches the video over and over, it becomes a still image. The videos they make for the paintings are very subtle; they give life to the painting, like a breath or heartbeat. Their beauty is that they do not overpower the paintings; they are not narrative and are very abstract, meant only to elicit the imaginative power to visualize different occurrences in the painting that are based on the viewer's own perceptions and experiences, Farzaneh described.
Their works are about their lives. "All the interiors we have painted are actual places we have lived — so for example, many of the paintings we did in the U.S. have elements of New England architecture. The use of greens and blues in our recent work flows from the beautiful nature around the house where we have been living, so there are many different things that appear in our paintings that come from the environment [in which] we live. Conceptually, the source of our inspiration is ourselves, so even as we change and grow, we never get disconnected from this source of inspiration, no matter where we are."
Written by Omid Memarian.
Abstract of the article For these Iranian twin-sister artists, collaboration is "like one person working with her other self" originally published in globalvoices.org under a Creative Commons license.
Images courtesy the Safarani sisters.