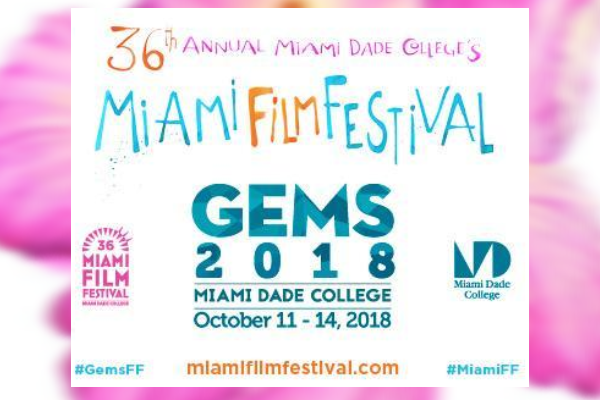 Celebrating cinema in two annual events, Miami 2018 GEMS Festival October 11-14, 2018 and its 36th annual edition March 1 – 10, 2019, Miami Dade College's Miami Film Festival is considered the preeminent film festival for showcasing Ibero-American cinema in the U.S., and a major launch pad for all international and documentary cinema.
Miami Film Festival GEMS takes place this October at MDC's Tower Theater Miami. GEMS is the annual fall extension of the internationally-renowned Miami Film Festival that celebrates its 36th edition in March 2019. Many of the titles in GEMS will compete in the Festival's main Awards categories culminating at the end of the 36th edition next year.
Miami Dade College's Miami Film Festival's line-up for their acclaimed Miami Film Festival GEMS, Opening Night will be for Colombia's Oscar submission Birds of Passage (Pájaros de Verano) and Spain's Oscar submission and domestic box office sensation Champions (Campeones) as the Closing Night selection.
Bárbara Lennie, the acclaimed and much in-demand Goya-winning Spanish actress, will accept the Festival's Precious Gem Award prior to the presentation of her newest film, Petra, directed by Jaime Rosales. Lennie also joins Penélope Cruz, Javier Bardem and Ricardo Darín in Oscar-winner Asghar Farhadi's Everybody Knows (Todos lo saben), which will also play at GEMS. Lennie's other recent roles are well-known to Miami Film Festival audiences – her 2018 film A Sort of Family won the Festival's Knight Competition Grand Prize, and her 2017 film Maria (And Everybody Else) won the Festival's HBO Ibero-American Feature Film Award.
Cinematographer Diego García, touted as a strong contender for his first Oscar nomination for shooting Paul Dano's directorial debut, Wildlife, starring Cary Mulligan and Jake Gyllenhall, will receive the Festival's Art of Light Award and participate in a conversation about his craft prior to the Florida premiere of Wildlife. Garcia's previous credits include his Fenix Award-winning work on Gabriel Mascaro's Neon Bull, and previous Miami Film Festival selections Cemetery of Splendor (2015) and The Darkness (2017). García will additionally lead a Master Class on Cinematography for attending local industry members and film students.
Returning for a second consecutive year to Miami Film Festival GEMS is the virtual reality (VR) sidebar Virtual Escape, in partnership with MDC's Miami Animation & Gaming International Complex (MAGIC). Festivalgoers will experience five projects of 360°, VR and Alternative Gaming available through the entire GEMS weekend.
This year's edition of GEMS will feature two distinct sections. The Spotlight Stage will feature high-profile, major-interest films from internationally renowned directors, many of which are in strong contention for Academy Award nominations. The Discovery Stage will feature new filmmakers creating some of the year's most interesting debut work, breaking out into international prominence.
Every movie in our 2018 lineup is a gem but only nine are official Oscar entries. Here's the group of hopefuls joining the race to represent their respective countries at the 2019 Academy Awards for Best Foreign Language Film. 💎 pic.twitter.com/KjJ7jUpTEN

— Miami Film Festival (@MiamiFilmFest) 26 de septiembre de 2018
GEMS' Juried Award Categories
The $30,000 Marimbas Award is Miami Film Festival's top award, presenting $30,000 cash to the jury-selected feature film (60 min or longer) that best exemplifies richness and resonance for cinema's future. A marimba is a variation of a xylophone that produces a deeper, richer and more resonant tone that a traditional xylophone. The marimba originated in Guatemala and Central America approximately 400 years ago and remains popular to this day in a wide variety of musical disciplines. The name of Miami Film Festival's top award is inspired by the 2011 winner of the Festival's top award, Julio Hernandez Cordon's Marimbas from Hell, which embodies the spirit of forward-looking cinema.
Jordan Ressler First Feature Award presents $10,000 cash to the filmmaker (director, or writer/director) of the jury-selected best film made by a filmmaker making his or her feature narrative (60 min or longer) film debut. The Award is courtesy of the South Florida family of the late Jordan Ressler, an aspiring screenwriter whose life was tragically cut short before he could realize his dream.
Ibero-American Feature Film Award presents $10,000 cash to the jury-selected best U.S. Hispanic or Ibero-American feature film (60 min or longer) in the Official Selection, awarded to the lead producer (production company).
Zeno Mountain Award presents $5,000 cash, courtesy of Fringe Partners, to the filmmaker of a jury-selected film of any genre and any length that best celebrates the diversity of abilities and disabilities and helps to break down barriers to our understanding of people living with disabilities. The award is named after Zeno Mountain Farm in Lincoln, VT, and inspired by the actors and filmmakers in the 2016 documentary film Becoming Bulletproof.
GEMS Audience Award. All films at GEMS are eligible for the Audience-voted Favorite Film Award.
Ver esta publicación en Instagram
The annual Festival has gathered more than 60,000 audience members and more than 400 filmmakers, producers, talent and industry professionals. It is the only major festival housed within a college or university. In the last five years, the Festival has screened films from more than 60 countries.
Miami Film Festival's special focus on Ibero-American cinema has made the Festival a natural gateway for the discovery of new talent from this diverse territory. The Festival also offers unparalleled educational opportunities to film students and the community at large.
For more information about activities, tickets and locations please go to miamifilmfestival.com
By Miami Dade College