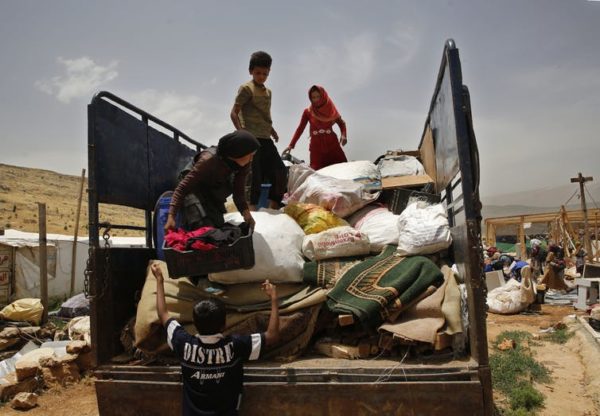 A Syrian family loads their belongings as they evacuate an informal refugee camp in Deir Al-Ahmar, east Lebanon, June 9, 2019.
While today's news is full of stories about refugees and migrants to the U.S. from Central America, the plight of those particular refugees is only part of an international migration crisis that has been going on since 2015 and has driven 25.9 million refugees worldwide from their homes.
We study the psychological aspects of migration and have carried out a systematic study funded by the National Science Foundation of refugees from the Syrian civil war. Thirteen million refugees have fled the conflict that has ravaged Syria for the last eight years.
Some in the West have expressed concerns that Syrian religious extremists may migrate to the West under cover of the refugee crisis to do harm.
That attitude was reflected by presidential candidate Donald Trump in a Tweet from Nov. 17, 2015.
"Refugees from Syria are now pouring into our great country," then presidential candidate Trump tweeted. "Who knows who they are – some could be ISIS. Is our president insane?"
Trump's fear of Syrian refugees has been echoed in Europe.
A Pew Research Center study in 2016 found that 59% of European respondents believed that the coming of refugees would increase the likelihood of terrorism in their country.
So Syrian refugees are now marooned in refugee camps or other temporary venues, unable to migrate because of immigration policies borne, in part, of these fears.
Trump has essentially closed the borders to Syrians, with only 41 refugees admitted to the U.S. in 2018.
Numbers admitted were also down in Europe, previously the top destination for Syrian refugees.
We aimed to find out, through our survey, whether Syrian refugees pose a danger to the West.